GREAT NEWS. It's June which means that all calendars are now half price but which one should you go for? Cliff Richard's website is on hand with some helpful advice.
"Cliff is the all-time best-seller when it comes to Danilo's calendars with total sales of more than 1.50 million calendars over the years. In the ladies' list, Kylie Minogue is the top seller with a meagre 750,000 copies!"
A meagre 750,000 copies? Unlucky Kylie. (Cliff's site conveniently ignores that he's been selling calendars for decades longer so we will too)
Even worse news for Kylie is that, for 2010, Cliff has really raised his game and seems to have taken her sister Dannii's best-selling 1997 calendar as inspiration for his next effort.
Cliff takes elements from February and October and distills them into a much more volatile formula.
See-through top showing a couple of plucky nipples – check.
On a beach – check
Arms out in suggestive pose, depending on both your sex and sexuality – check.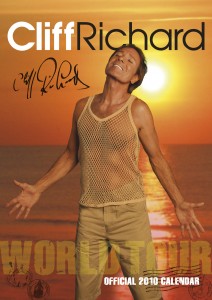 It's a humdinger of a picture where Cliff is looking to the heavens and thinking of God as he imagines fondling both Jesus and the Holy Spirit. They say God is inside all of us, well he's definitely "inside" Cliff in this picture.
I had Dannii's 97 calendar and I loved it. There's nothing like going to check the date and getting the bonus of seeing a couple of boobs. But Cliff's is even better.
The real test of a calendar is what the picture is in May, my birthday month. Dannii's was great. She was on a beach in a white dress that wasn't see-through – unless it got wet of course. And check this – it WAS wet of course! The tide changes very quickly on those Aussie beaches which made for a bonza* birthday.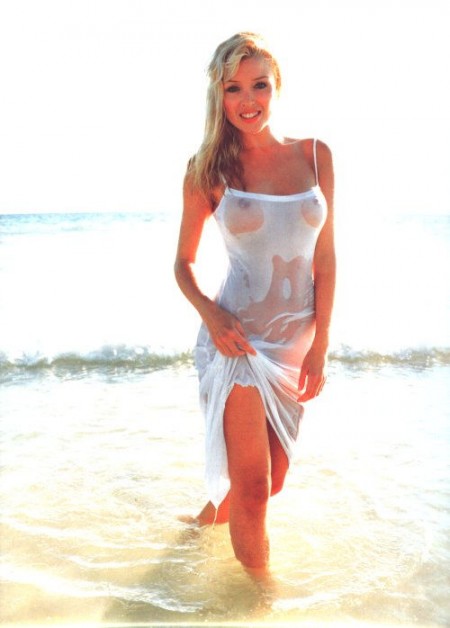 But Cliff has pulled out all the stops. In May he's dressed himself in some Lara Croft get-up – a green t-shirt, white shorts (teasing us with just a little bit of leg) and a rope slung over his shoulder (showing he's ready for a bit of hardcore adventuring!) If that wasn't enough (and it was) he's photo-shopped himself in over a backdrop of some deserty-looking stonage and glued a moon (full) in the top left corner for us even though it's the day time! Thanks Cliff.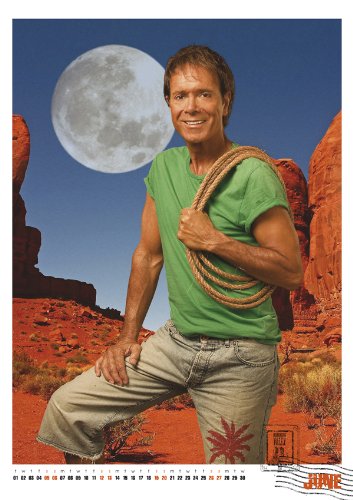 Cliff's 2010 calendar is available in ALL good calendar shops for about £3 or you can buy a used one from Amazon for £27.52.
* Australian for banging.